The Pagani Huayra



Ancient legends of the Aymara tell us of Huayra Tata, god of wind, who commands the breezes,
winds, and blizzards that invade the mountains, cliffs and hills of the Andean highlands. It is
told that Huayra Tata resides deep in the high peaks and valleys, abandoning them only to
demonstrate his power to his wife, Pachamama, goddess of mother earth. With his power
Huayra Tata was able to lift the waters from lake Titicaca and rain them down on the fertile
Pachamama. When Huayra Tata sleeps, the waters and rivers lay quiet.

But the calm before the storm is about to be interrupted...
German engineering and power mixed with the beauty and sophistication of Italian design can yield some truly incredible art, and the new Pagani Huayra is no exception.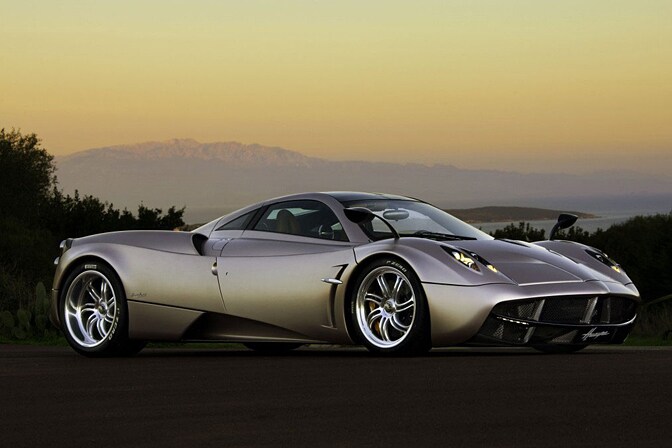 At the heart of the Pagani Huayra is a Mercedes-AMG-
M158 twin turbo V12. This monstrous German heart beats a powerful 700 HP, allowing the Pagani Huayra to rocket from 0 to 60MPH in less that 3.5 seconds, and will push the car up to it's top speed of 230MPH. Unlike many of the super-cars coming out today, the Pagani Huayra does not use a dual clutch gearbox, instead it uses a seven speed sequential gearbox with a dual disc clutch. The Pagani Huayra features the sequential gearbox in order to save 154 pounds of added weight that the dual clutch gearbox adds. On a plane of speed and power, the Pagani Huayra has just as much, if not more power than most super-cars, and inside it has the lush Italian leather and ultra lightweight carbon fiber styling. For the most part, the interior is composed of the lightweight carbon fiber, and is dressed in fine Italian leather. The overall look is certainly stunning, with the dark carbon fiber contrasting the leather and bright-unfinished metal interior trim. From the look down to the feeling in your foot, the Pagani Huayra will not disappoint. 
---