The Auto Gallery at the 2nd Annual Beverly Hills Concours D'Elegance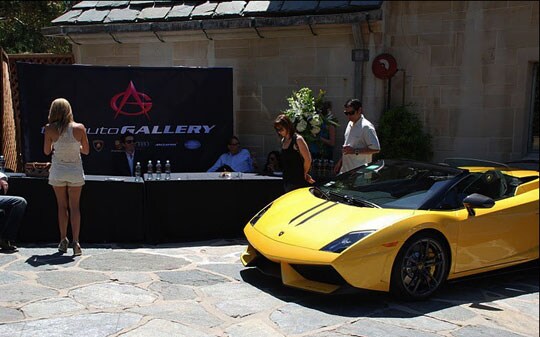 The 2nd Annual Beverly Hills Concours D'Elegance held at Greystone Mansion Estate Park. The Auto Gallery lead
the prestigious list of sponsors as the title sponsor and hosted a beautiful display with eight cars; including the McLaren MP4-12C prototype and rolling chassis. Ticket benefited "Friends of Greystone" and the City of Beverly Hills.
The organizers of the 2011 edition of the Greystone Mansion Concours D'Elegance faced no small challenge in staging a sophomore event that could surpass the 2010 debut in terms of quality of cars on display, luxury amenities offered, and overall user experience. But if there are automotive gods, then they were clearly smiling on Greystone, providing clear skies and sweeping smog-free views of Los Angeles that extended to the ocean, as well as warm temperatures that starkly contrasted last year's cloud-covered inaugural event. An outstanding field of vintage automobiles, of course, proved to be the piece of resistance of the Concours, which is held at the Greystone Mansion, the onetime home of the influential Doheny family that sits atop a Beverly Hills ridge.
The Friends of Greystone, a non-profit that manages the city-owned property, once again galvanized the considerable resources of Los Angeles's numerous automobile collectors to amass a who's who of the niche. While the Petersen Automotive Museum, leading auction house Gooding & Company, and even the Armand Hammer Foundation lent their support as active sponsors, exhibited cars came from active local collectors such as Bruce Meyer, David Sydorick and Peter Mullin, who owns a car museum of his own in Oxnard, California.