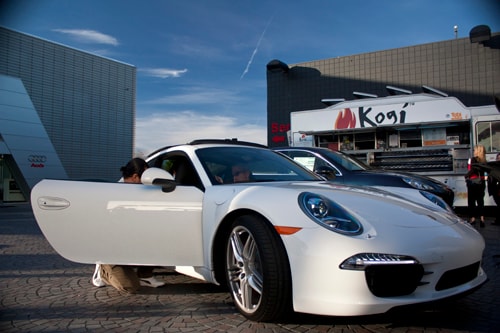 On February 4, 2012, Porsche unveiled their newest edition of their famous Porsche 991 Carrera to The Auto Gallery, and we had an exclusive taste of the new model and the complimentary food that came with it! On this beautiful, summer-like day in February, our lucky guests got to spend the sunny Saturday test-driving the new, sleek Porsche 991. The new Porsche 991 is curvier and lower than its predecessor, providing better aerodynamics and better ability to hug the pavement on those tricky turns. After our guests were satisfied of their hunger for speed, they got to satisfy their appetite with Asian fusion tacos from the famous Kogi Truck and delicious burgers from The Habit Burger truck. Needless to say, our guests left feeling satisfied in every way.
For more information on Porsche, check out our website.
Or check our inventory to see which available Porsche you can drive next!