The Alfa's sport exhaust burbles menacingly as the car pulls up to the start/finish line on Mazda Raceway Laguna Seca's main straight.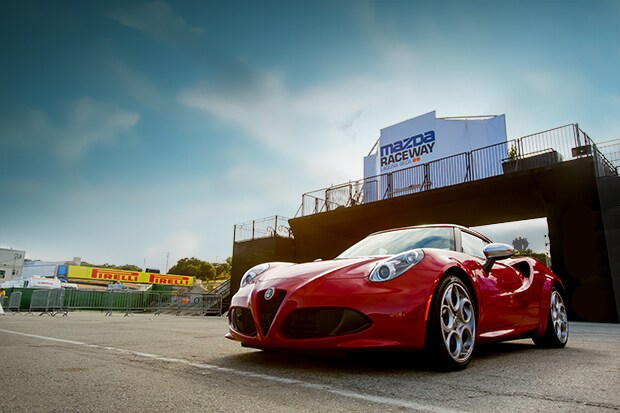 With launch control engaged, the turbocharged 1.7-liter engine screams at a constant RPM until the car is unleashed. The rear tires grapple for traction and the engine playfully bounces off redline for a moment before the driver taps the steering-wheel mounted paddle shifter and the transmission slams into second.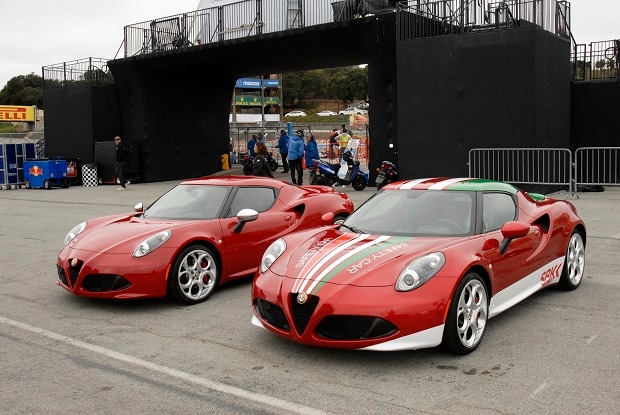 0-60 passes in 4.3 seconds, and it's been reported that the car will run the quarter mile in 13 seconds flat. But Laguna Seca is no drag strip.
Video games and on-board lap videos can't convey how steep the main straight's hill is, and the 4C goes into the first kink almost completely blind, and flat-out. The car crests the hill and powers down to the braking zone for the Andretti hairpin.

The bottom-hinged brake pedal is firm and communicates to its driver like a teen coming off a month-long social media hiatus. Four-piston Brembo brake calipers clamp down hard, making the Pirelli tires earn their place.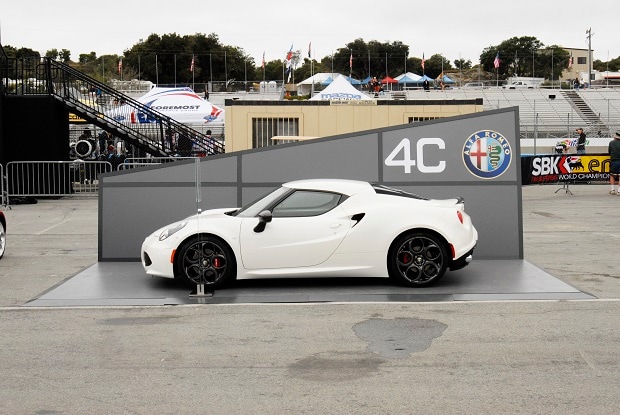 Downshifts rev-match perfectly, with automatic throttle blips that have the little Alfa snarl and snap its way into a corner.

Turns Three and Four allow drivers to savor the rigidity that comes from the 4C's carbon fiber chassis. Rolling on the throttle at each exit, 237 horsepower and almost 1.0 G of cornering force just exceed the tire's limits. The unassisted steering wheel goes light - a flick of the wrist catches the Alfa's slide with minimal drama and the car pushes on uphill through Turns Five and Six.

From there the car's sculpted nose points skyward as it climbs to the most famous turn in the United States. By the time you spot The Corkscrew, you're already on it, and the track drops five and a half stories in the space of 450 feet.

The downhill slope continues through Turns Nine and Ten. With a curb weight of under 2,500 lbs, the Alfa rewards drivers who turn in with a soft touch and balance the car with the throttle.
Hard on the brakes one last time for the final left hander. The tach climbs and each crescendo is accompanied by another slap on the paddle shifter, another pop from the exhaust and another burst of momentum.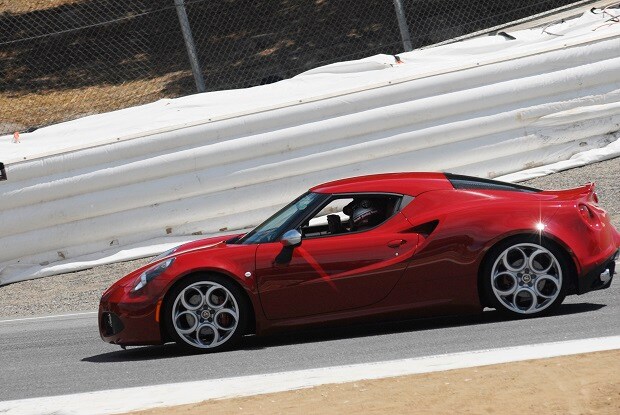 This full throttle burn is the only moment for a driver to catch his or her breath here. The ride starts again at Turn One in a matter of seconds.